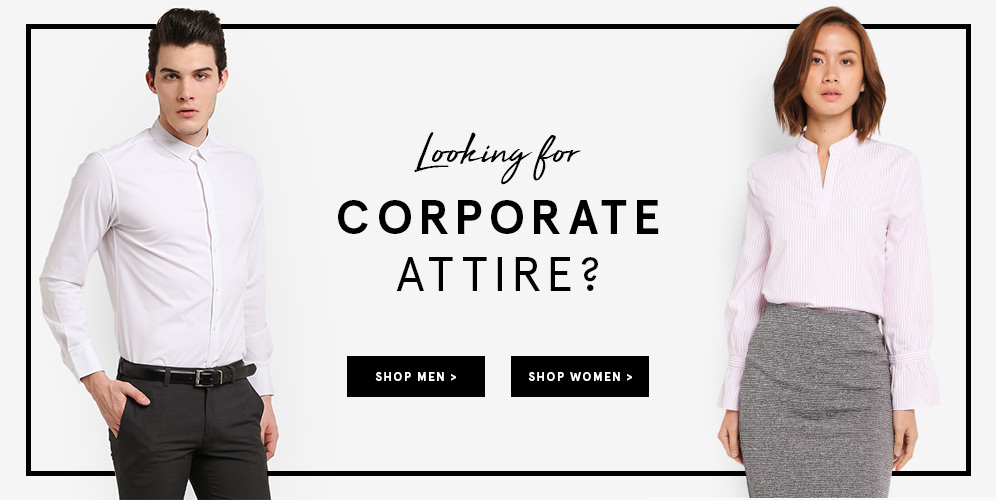 Corporate Attire
ZALORA Philippines offers an extensive selection of corporate attire from the best local and international brands. The range includes professional workwear options for both men and women.
Look Dapper In Business Attire
Corporate Attire consists of an array of formal wear suitable for a business or office environment. For men, wearing a suit is the only way to go when it comes to traditional business attire. A dark suit with a crisp white shirt and a silk tie will make you the dapperest Dan in your office. While women can also wear a pantsuit, they have several more options for formal office wear than men. They can also choose to wear a skirt suit, a sophisticated pencil dress, or a more forgiving shift dress. Ensure that the dress is well-fitted and of an appropriate length, as well as in a dark color such as black or navy blue or dark grey.
Shop Corporate Attire Online On ZALORA Philippines
Browse our wide selection of fashion for both men and women now and get a free voucher and exclusive discount upon sign-up on our site. ZALORA, the country's leading online fashion destination for all things fashion, aims to bring together fashion and convenience to provide you with the best online shopping experience. As such we offer a variety of payment methods including Paypal, credit or debit cards, bank transfer, and cash on delivery. Our excellent 30-days returns policy just sweetens the deal. So start shopping now!